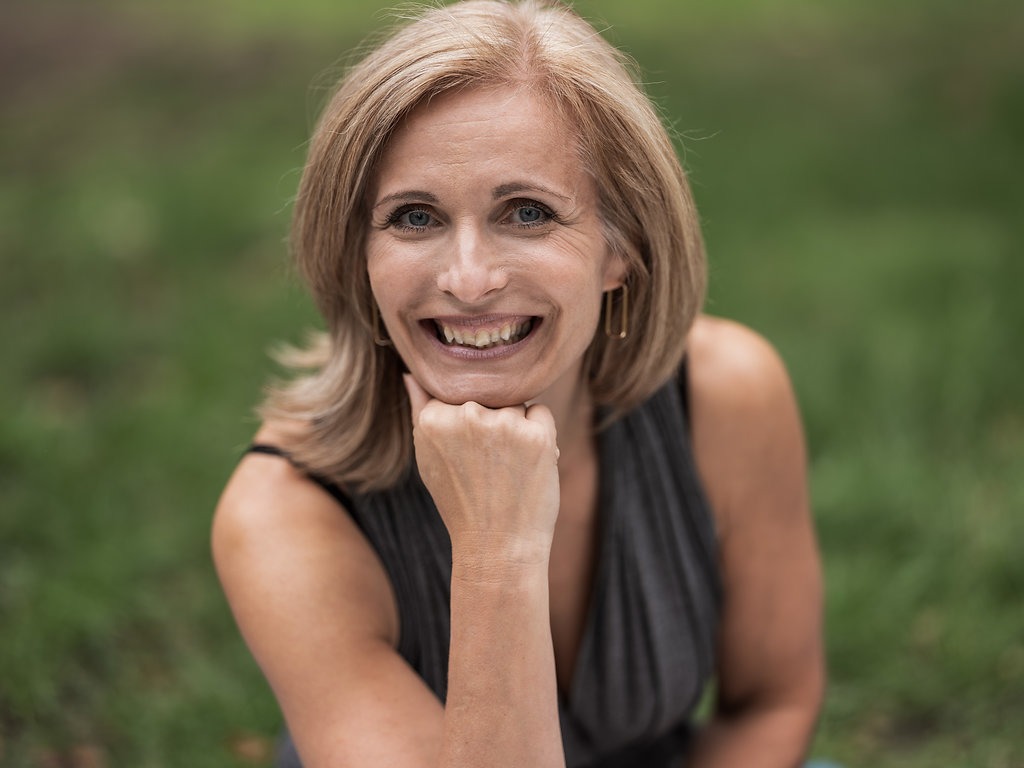 Sisse Siegumfeldt, owner
I have been doing yoga for almost 20 years and it has become the guiding thread in my life: My source of joy and energy when the sky is blue, and my steady rock and anchor when the storm gushes. My approach to teaching yoga is communicate yoga so that everyone can understand it. Everyone should have a warm and good experience, a calm mind, and a happier, stronger body when leaving class.
I have taken numerous courses and teacher trainings over the years, including: Hatha Yoga with Claus Hagen 2004-5; Vinyasa Yoga at the Yoga Arts Teacher Training 2007; Anusara Immersion 1-3 with Desiree Rumbaugh, Jordan Bloom, and Neesha Zollinger 2009-10, Lille Yogahus Children's Yoga Teacher Training 2012-2013, Yoga Therapeutics, Mindfulness for children, Mindfulness training, Yoga Philosophy Course, The Psychology of Yoga, Dynamic Yoga, Aerial yoga, and many more.
I have also written the book " YOGA – et kvarter om dagen for en glad krop og et stærkt sind" ("Yoga – Fifteen Minutes a Day for a Happy Body and a Strong Mind," Gyldendal 2013), and made the DVD "Børne Yoga og de fem sanser" ("Children's Yoga and the Five Senses," SisseYoga 2011).
Sandy TszYan Leung
After completing a 200 hours teacher's training in 2015, I continue to seek out various training, workshops and immersions to obtain knowledge and get inspiration. In 2016, I finished a 50 hours teacher's training in Yin Yoga with Jo Phee, specialising in traditional Chinese medicine and meridians.
I love a mentally challenging slow, Hatha Flow class, infused with mindfulness meditation, breath-to-movement flows and static relaxation in between – I always have both strengthening and relaxing elements in my classes. I believe that when we go deep into the breath the magic of the moment unfolds, and through the breath we discover magic of yoga. I eat vegetables but I also eat meat, my philosophy in life is moderating, yet liberating.
Sandy comes from Hong Kong and teaches in English.
Constanza Julio del Rio
Constanza started her yoga journey in her home country of Chile. After a career in Fashion Design and Arts, she decided to pursue her love of yoga further and now has over 2000 hours of study in Yoga Therapy, Restorative Yoga, Aerial Yoga, Yoga Philosophy and Anatomy. 
Constanza is an approachable, passionate and creative teacher. She believes in facilitating a learning space where students feel the freedom to discover new ways of expressing movement. Constanza invites her students to leave preconceptions and expectations at the door and empowers students to be in charge of their own bodies and practice.
In Constanza's classes you are invited to move from your senses, experience sweet restorative asanas and end every session with a nice long savasana. 
Her perception of an advanced practitioner is more related to knowing yourself and let go of self-judgment, instead of focusing on how physically capable you are in your asana practice.
The teachers who have influenced her: 'I have been lucky enough to learn from Richard Rosen, Steve Haines, Jason Crandell, Maha Rajan, Prakash Narayanan, Rajadurai, Anna Ashby, Gary Carter, Mark Singleton, among many others.'
Constanza teaches internationally and has taught in Europe, Africa, India and South America.
Constanza is from Chile and teaches in English.
Katrine Johnsen
I've been practicing yoga for more than 15 years and I am certified by Yoga Garden San Francisco in Hatha and Vinyasa Yoga as well as childrens yoga teacher training at Blå himmel Yoga Copenhagen. My background as a dancer makes me include an element of flow and rhythm in my classes almost everytime.
To me, yoga is the smartest way to move your body, an opportunity to breathe deeply in a fast world, a source of nourishment and peace of mind, as well as a way to meet the world, myself and other people with love and respect. And this is why i love to teach it and why I believe that everyone can enjoy yoga, no matter their background, age og flexibility.
It is important to me to meet my students where they are and to see them, with all of their unique experiences, bodies and conditionings. This is what I always try to take with me and live up to as a yoga teacher.
Ditte Paarby
Teaching yoga to me means mindfulness, being together and letting go of the ego. To share yoga and to experience it together with my students makes so much sense to me. This is where I feel alive. During the last 20 years I have worked with teaching and coaching in several sectors of health and movement. Teaching yoga has become my biggest passion and I have taken a 250 hours Vinyasa yoga teacher training with Paul Jerard, Yoga against stress with Anne Goncalves (72 hrs), as well as several courses through the last 10 years. Yoga is about balance, awareness and flexibility in both body and mind with the ultimate goal of  a life in harmony and universal joy. With a heartwarming and positive attitude I welcome and aim to inspire both new and experienced yogis. My classes are versatile, full of smiles and a casual attitude and my highest priority is to design my classes so everyone feels welcome, safe and comfortable. I teach both Hatha yoga, Vinyasa yoga, Hatha flow, Vinyasa flow and restorativ yoga. On top of that I am a certified pilates teacher by Dianne McCarthy and in certain classes I will include elements from that.
Amelie Wahl
"Yoga is the journey of the self, through the self, to the self."
For me, yoga is about finding the best version of yourself. Also it is about balance. Balance between strength and softness, holding on and letting go, challenging yourself and respecting your boundaries.
My classes always contain inspiring and challenging elements as well as a good physical alignment. And when body and mind are in balance there will be more energy for yourself and others, for life and everyday tasks, for enjoying and digging deeper.
There are no expectations towards the student other than showing up on the mat. With time the rest will come by itself
I graduated from LagoCph in Hatha and Vinyasa yoga. On top of that I work in administration for Blå himmel YOGA.
Zerina Konic
Teaching for me brings peace and joy in both body & mind. Every day brings a new learning experience and the key is to listen and be open for change. As every place is different so is the mind. But there is a way to still it, if only for a second, and that is through the breath. Knowing that there is a relief somewhere is very soothing. I´d like to be there to offer you the relief and help you on your way, wherever you feel the need to go. ©                                            
Yoga for me is not a temporary thing, it is my life. It has been my passion since I was 15 and I am happy that in 2016 I decided to pursue my passion and turn it into a reality. Yoga has helped me in many ways throughout my life which are hard to describe, as it is a practice that is constantly changing, like the state of our minds. None the less, the overall effects have given me more focus and strength. I am more able to detach from the clutter of the mind and approach life in a more objective way.
I focus a lot on the meditative aspect of the practice by engaging the students through deep breath work (pranayama).  This enables me to focus more on each pose and explore the different skeletal variations in class. I am trained in hatha, yin, yoga nidra, qigong and sound healing with over 700 hours of trainings. I teach primarily in English, if needed in Danish.
Arenze Fischer (postnatal yoga teacher and sub)
Yogateacher, childrens yoga teacher, prenatal and postnatal yoga teacher, history teller and MA in anthropology.
To me yoga is a way to find calm, find home and find myself. I took my first yoga class in january 1994 and quickly fell in love with both yoga and mediation. This has lead to several long retreats, teacher trainings and some years in an ashram. I have been making a living teaching yoga since 2002 and have taught a broad variety of students ranging from irish students to kindergarden kids with special needs to old muslim women.
My teachings often are based on stories and myths that create a frame for the yoga class. Storytelling is a fantastic way to train childrens attention and fantasy. Family classes are giving children and adults a possibility to share a nice experience in which they participate being equals.
Certifications: Yoga and meditation teacher – Galway Yoga School Ireland (appr. 800 hrs), postnatal yoga teacher – Sitaram Partnership, prenatal yoga teacher – British Wheel og Yoga, Mindfulness instructor by Henning Daverne, Childrens Yoga teacher – Lille Yogahus.
Additional courses: Yogatherapy for children with special needs, Mindfulness in Schools og Connected Kids, Storytime Yoga by Sydney Solis, currently I am studying sports pedagogy at copenhagen university.
Carmen Csilla Medina (sub)
På grund af min multikulturelle (cubanske-ungarske) baggrund har jeg altid været optaget af at lære nyt, at prøve at forstå mig selv og verden omkring mig for at integrere tilsyneladende forskellige ideer og perspektiver. Disse kræfter førte mig til at tage en uddannelse som en psykomotorisk terapeut, hvor man arbejder med sammenkoblingerne mellem det fysiske, det psykologiske og det sociale.
På grund af min alsidige uddannelse og bred vifte af interesser er min karriere et patchwork: Jeg er en (aerial) yogalærer, fitnessinstruktør, terapeut, massør, danser, cirkusartist (aerial silks) og instruktør, workshop facilitator, performance artist og danseanmelder. For mig søger alle disse forskellige udtryksformer at forbinde os til vores kroppe.
At have en bevægelsespraksis kan spille en vigtig rolle i vores velfærd. Fra min egen erfaring har min bevægelsespraksis hjulpet mig gennem mørke perioder siden jeg var teenager og har introduceret mig til mennesker og lokalsamfund, der forvandlede mit liv. Derfor vil jeg gerne hjælpe folk med at finde og vedligeholde deres egen bevægelsessti, en praksis der bringer dem glæde og dyb tilfredshed. Dette kan være i den blide eller mere intense ende af spektret, eller måske kombinationen af ​​begge. Mit mål er at få dig til at føle dig opmuntret og støttet på din egen rejse. Min undervisningsstil karakteriseres af længere – blide eller stærke – stillinger, så både vores sind og vores fascia kan overgive sig til det. En legesyg atmosfære er afgørende for mig at skabe en positiv oplevelse, så lidt humor og gensidig latter er almindeligt i mine klasser. Kom som du er i dag, der er plads til alle.
Julie Vogelsberger (sub)
Yoga, to me, is a way to get in touch with my body, breath and "inner me". I also use it as a tool to get a higher consciousness of my body, get aware of your (movements)patters and tendencies, both on and off the yogamat.
In my yoga classes you will get a deeper knowledge og your movement patters. Some serve you well and others might be less beneficial for your body. We will work with and against these patters and by that you will become aware of how much potential you have to get more energy and serenity in body and mind. This will give you a feeling of greater freedom. Loving yourself, exactly the way you are is the basis of my yoga classes.
I teach Hatha and Vinyasa and all levels are welcome. I usually teach in english but will integrate danish into the class if necessary.
Charlotte Snede Sørensen (sub)
Yoga is my motivation. I have always been very physically active and doing lots of sports. A couple of years ago my back begun to hurt and I started doing yoga. My body quickly recovered due to the physical excercises but I also learned a lot from the mental part where you start to open up.
I want to share all the good things yoga has given me with my students. The goal doesn't have to be to learn a lot of advanced postures – yoga is for you if you want to get to know yourself.
My classes are supposed to be fun and sweating and coming out of your comfort zone is a good thing in my oppinion. The mood is casual and the most important thing is that you are having fun.
I also work with scenography.
Charlotte teaches in danish and english in Aerial Yoga
Laura Bach Skou (sub)
Most of all, Yoga is a way to move the body. I have read somewhere: "move your body and your heart will follow"
As life progresses, it becomes clearer and clearer to me that it is a good idea to invite the  divine into your everyday life. I think it's such an incredible luck that you can (just) move your body and thereby attract all the good, the lucky coincidences and just being able to breathe freely. This is what yoga is to me. And that you can discover something new every day. It is a collaboration with nature!
I have been teaching for almost 10 years and graduated at Hamsa Yoga Studio. Additionally, I participated in a lot of courses, amongst others within Anusara, especially with Ross Rayburn.
Benedikte Bandak (sub)
Yoga is a way to find back to the simple things: your breath, your body the undisturbed being. It is a way to connect to what already is inside and outside of me. It might sound complicated but it often is there that I find myself, when I have been breathing and moving on my yoga mat. I graduated as a 200hrs RYT Vinyasa Yoga teacher at True North Vinyasa in Portugal and have added several courses and workshops on top of that, amongst others a 50 hrs yoga technique course at Hamsa Yoga Studio. I teach Hatha and Hatha Flow for all levels. My classes are usually a combination of strengthening and meditative flows.
Oliver Lund Storgaard (sub)
Jeg er en passioneret yoganørd, der er utrolig nysgerrig og elsker at lære nyt om yoga og menneskets fantastiske krop. For mig er det at undervise en fantastisk mulighed for at dele det, jeg elsker, samt udvikle mig personligt og fagligt. Selv har jeg mediteret i ni år og dyrket yoga i fire år. Dertil har jeg en baggrund indenfor kampsport, CrossFit og løb, hvilket har givet mig en dybdegående anatomisk forståelse af kroppens styrke og kinetiske kæder.
Efter at have færdiggjort min kandidat tog jeg til Rishikesh i Indien, hvorfra jeg er yogauddannet. Det var en fantastisk rejse, hvor jeg lærte utroligt meget om yoga, filosofi, anatomi og mig selv.
For mig er yoga et helt unikt værktøj til at skabe balance i krop og sind. I en travl hverdag har det store gavnlige effekter at arbejde med kropsbevidsthed, dybe vejrtrækninger og fysisk balance i kroppen. Det mærker jeg hver dag på min egen krop, og det giver mig stor glæde at se andre forlade yogalokalet betydeligt mere afslappede, end da de kom. Derfor skaber yoga mening i mit liv, og derfor elsker jeg at undervise yoga.
Lara Ghibril (sub)
I have been practicing yoga since 2010, and in January 2016, I got my official Yoga Teacher Training certification from Yoga District in Washington DC, and in 2018 I received my Aerial Yoga certification from Athens based school "Aerial Life".
I am a true believer of the power of yoga on both the body and mind, and I am passionate about getting as many people to try yoga as possible! I believe yoga is for everyone, all ages, bodies, injured and with special conditions–
instagram: @yogalalalove